Workflow Tab
The Workflow tab displays settings related to the time and order that the job is processed in.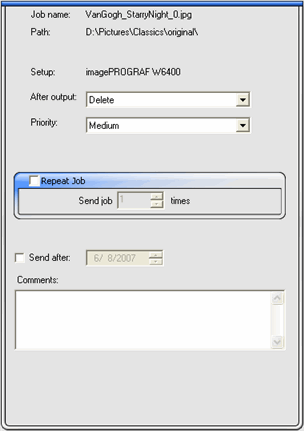 After Output

Sets what to do with the job after output:

Delete

Removes jobs from the queue after output.

Hold

Places jobs in the Hold Queue after output or at the bottom of the queue.

Archive

Saves the job after output.

Send

Sets what part of a combination print and contour job will be output. This control will only appear for hybrid devices.

See Contour Cutting and Virtual Hybrid Output for more information.

Print and contour

The job will be printed, and then the contour will be cut.

Print only

Only the printed part of the job will be output.

Contour only

Only the contour will be cut.

Priority

The priority assigned to new jobs by default. Priority determines which jobs in a given queue process first.

A High priority job might not always print first. This is because the software can RIP a number of jobs simultaneously. If a smaller job finishes RIPing first, it will move to the Send queue first, and immediately start printing.

Repeat Job

Enter the number of times you would like the software to automatically re-send the job.

This feature saves you from having to manually send the job each time you want to output it.

Send After

Check to specify what time the jobs in the queue will start to be output.

Comments

Comments about the job that can be viewed through the Job Properties dialog.