Job Workflow Tab
The Job Workflow tab displays information about the output device and media size.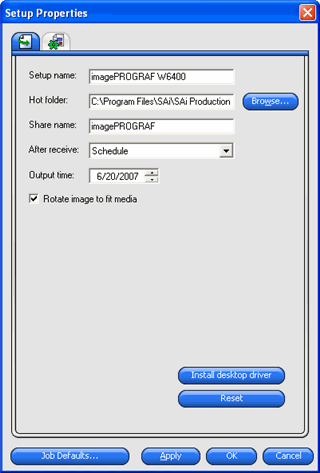 Setup name

The name of the setup.

Hot folder

The folder where the software stores job files for this output device.

Share name

The share name assigned to the setup.

Send

For jobs that contain both a printed image and a contour cut, this control selects what will be output.

Print and Contour

Prints the job then cuts the contour.

Print Only

Only prints the job.

Contour Only

Only cuts the contour.

After Receive

Sets what to do with jobs after they are received:

Hold

Places job in the Hold Queue.

Auto Start

Begins processing jobs immediately.

Schedule

Outputs jobs at the time specified in the Output Time field.

Output time

Select Schedule in the After REceive field to enter the time at which the queued jobs should begin processing.

Rotate image to fit media

The image automatically rotates to better fit the dimensions of the output media if needed.

Install desktop driver

Click this button to make the device available as a standard printer to other programs on your computer.